The Volvo C303 "Cross Country" was built from 1974 until 1980. (Military codes: TGB 1111, 111A, etc.) It came in different forms including a soft top and hard top 4x4, a 6x6 in various forms and a civilian 4x4 version. Most that are alive today are military versions. The civilian marketed models often suffer from rust damage due to not having the luxury of the military maintenance programs. Rust free and worthy C303's are rare finds.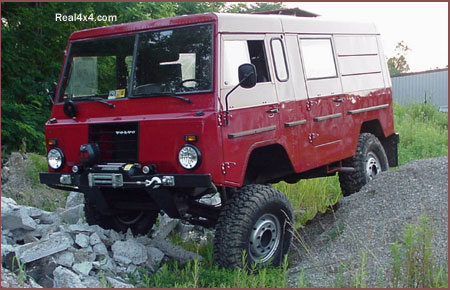 ---
Project 303: Click here to view our Volvo C303 project.
---
Check out Partsmart for international and commercial truck parts!
The Volvo C303 has leaf springs with straight, portal axles, approx. 15-16" of clearance at the lowest point. High and low range transfer case, a 6 cyl. Volvo B-30 engine and a 4 speed transmission. They come with fully selectable vacuum operated diff. lockers on the front and rear. Top speed is around 65 MPH. HP is 125 at 4200 RPM and 165 Ft.lbs. at 2500 RPM. Max (printed) weight is 7590 lbs.
The locker switches are in front of the shifter. The thumb lever on the shifter is a safety for reverse. The driver's side windscreen pivots out (for some reason!). The red button beside the lockers is for engaging 4x4 on the fly. Low and high range is selected via the main shifter. It goes into 4x4 when low range is selected. For safety, the C303 will automatically go into 4x4 mode when it senses the brakes being pressed hard.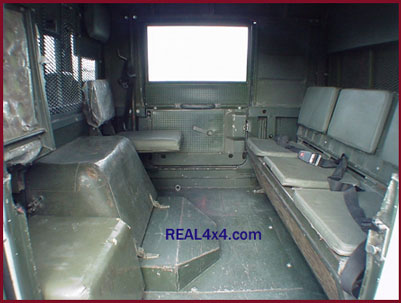 The inside of a 4x4 hard top C303. It can carry 7 adults total, including the "jump seats", all with seat belts.

C303 Specs: Click here to view more Volvo C303 stats.

Specs include:
Wheelbase- 91"
Width- 75"
Length- 171"
Height- 7.2 ft.
Rollover or Underbody angle- 125 degrees
A/D angles, front and rear- 45 degrees
Turning circle- 37'
Track- 61"
Tires/wheels- 34-35" on 16x7.5"
Axles- 6:1 overall (or 7.14:1 on 6x6 and 304) Portal reduction, Diff. locks.
Weight, Unladen- approx. 5000 lbs.
Max. load- 2500 lbs.
Max trailer- 5500 lbs.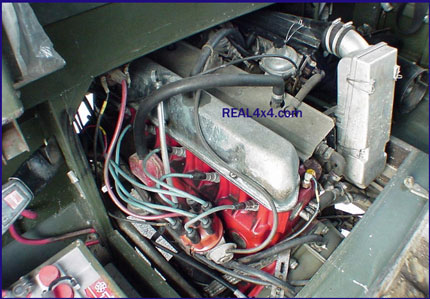 The B-30 engine.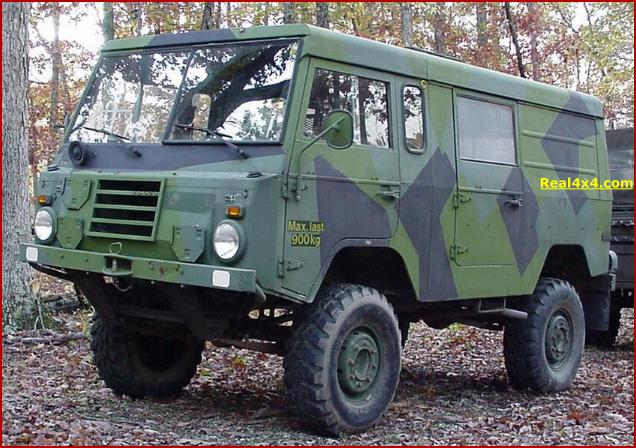 The 303 military soft top version used with recoilless gun. Referred to as the "Eleven Eleven". (Mil code TGB-11-11)
---
6x6 hard top. Super rare.
---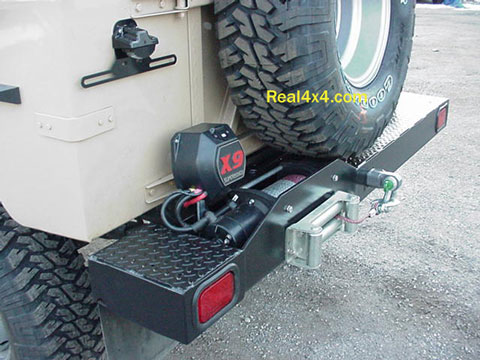 A custom rear bumper, built by us, for expedition use. Has LED lights, a receiver hitch and 9000lb. Superwinch.
---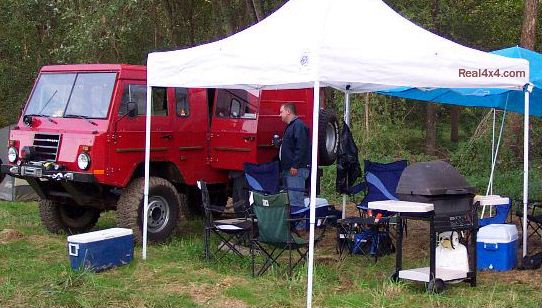 Camping doesn't have to be "rough". All this gear, including the full size grill, was carried inside my own C303 with room to spare.

Look here at some of my past 4x4's.
---
Copyright © 1999-2010 (Including images) - All rights reserved.