This is my Pinzgauer information and picture page!!

Here is some basic Pinz info, and lots of pictures that I have taken in Europe and have received from people all over the world!

(Sorry but most of these models are NOT available in the USA)
Factory Pinz refurbishing.

Here are some various pictures of Pinzgauers from all over the world. A few pics are from the original Pinz factory in Graz Austria, that I visited in early 2000. They were refurbing a bunch of Austrian Pinzies to new condition!

Here's some handy info straight from the factory manuals!
PINZGAUER 710M SPECS!
HEIGHT: about 7 ft | WIDTH: 69" | WHEEL BASE: 86.6" | LENGTH: 164" | GROUND CLEARANCE: around 15-16" at the lowest point!
WEIGHT: About 4500lbs unladen. | GVW: approx 6200lbs. (8600 for the 6x6) | FORDING DEPTH: 28" | TIRE SIZE: 255 or 235 /85/16 (or close)
---
PINZGAUER 2.5 LITER ENGINE SPECS!
HP : approx 87 | TORQUE: 130 Ft/lbs. | MAINS: 5 main bearing | VALVES: Overhead, two per cyl. | CARB : 2 Zenith double barrels.
FUEL 87 octane min. | COOLING : Air, Finned castings, Fan | ELECTRICAL: Bosh 28V 35 AMP Alt. | COMPRESSION: 7.5:1 | Pistons: Inline 4

LOOK, pictures I took from the 2000 International Pinzgauer Treffen (Rally) in Italy!!! Everything from older 710's were there, to the newest 716(4x4 Diesel) and 718's (6x6 D)!!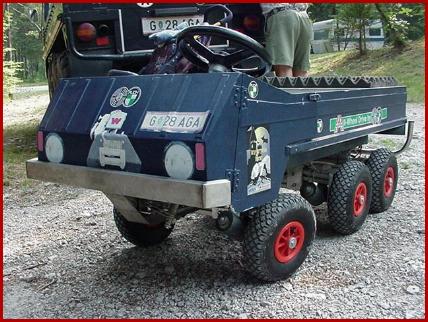 (A special 712M built by Klaus for his son!)
E-MAIL! VOLVO C303 | GALLERY |FORUMS |ABOUT-ME | Home Page ]

---
This page was designed by Vince Sweeney.
Copyright © 1999, 2000, 2001, 2002, 2003, 2004, 2005 (Including images) - All rights reserved.